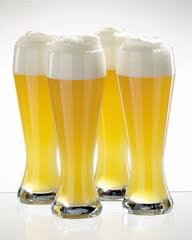 Witbier (Belgian for "white beer") is a Belgian-style ale with a pale, cloudy appearance due to it being unfiltered and brewed with a high level of wheat. Witbiers are typically spiced with coriander and orange peel and has a crisp finish due to the high carbonation. Some brewers may also use oats and/or grains of paradise.
Ad blocker interference detected!
Wikia is a free-to-use site that makes money from advertising. We have a modified experience for viewers using ad blockers

Wikia is not accessible if you've made further modifications. Remove the custom ad blocker rule(s) and the page will load as expected.