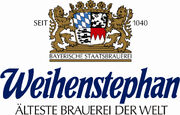 Brauerei Weihenstephan is a brewery in Freisig, Germany.
Weihenstephan is the state brewery of Bavaria, and claims to be the oldest brewery in the world. Their beers are generally considered by beer ethusiasts to be among the best in Germany.
Weihenstephaner Vitus - a weizenbock
Availability
Edit
Presumably available around Bavaria. Also commonly available in liquor stores in the United States, and occasionally in bottles at bars that make a point of selling good beer.
Available on draught at "The White Horse" 'English pub' in Montreux, Switzerland. overlooking Lake Geneva.
Available on draught at "Haus Murphy" in Glendale, Arizona, in the sunny southwest.
Available at liquor stores in the Netherlands.
Packaging
Edit
Most often found sold as single 750 ml bottles. Six packs of some of their beers have been showing up as well.
http://www.brauerei-weihenstephan.de
Postfach 11 55
D-85311 Freising, Germany

Ad blocker interference detected!
Wikia is a free-to-use site that makes money from advertising. We have a modified experience for viewers using ad blockers

Wikia is not accessible if you've made further modifications. Remove the custom ad blocker rule(s) and the page will load as expected.