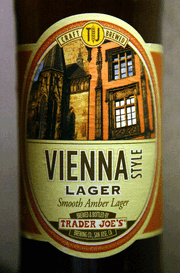 Few of a certain generation can forget the sight of Emilio Estevez and Harry Dean Stanton swigging from beer cans generically marked "Beer." Besides being an apt comment on blind consumerism in the 80s, it also whet at least one fan's appetite for brew –mine. Albeit, I was, like, 12, but the notion of drinking down an anonymous cold one seemed like the pinnacle of punk rock.
A quarter-century later, I still nurse an occasional penchant for generic brews, thought I've upgraded to what are now known as "store brands" or "private label." Among them are Trader Joe's lineup of bottled brews, which include a hefeweizen, a Bohemian lager, something called "Hofbrau Bock" and a Vienna-style lager. Of course, TJ's is into the brewery business about as much as it is in the wine business (paging Charles Shaw!) meaning that it makes deals with providers to slap their own label on the bottle and market direct to the consumer instead of through a distributor. The result is solid brews typically discounted a buck or two compared to their counterparts.
That said, the question looms, who's actually making the beer? Some sleuthing around the web suggests that "Trader Joe's Brewing" in San Jose –as it's listed on the bottle –is probably a legal entity through which it purchases product by, say, Bay Area juggernaut Gordon Biersch. At least that's what connoisseurs from the Huffington Post to the Chicago Tribune believe.
For me, the jury is out (on a beer run). I'm planning a beer-by-beer comparison and invite you to join me in the comments. Cheers!
Ad blocker interference detected!
Wikia is a free-to-use site that makes money from advertising. We have a modified experience for viewers using ad blockers

Wikia is not accessible if you've made further modifications. Remove the custom ad blocker rule(s) and the page will load as expected.