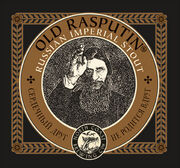 For your typical celebrity, it's to be expected that one day someone is going to name a sandwich or some other edible after you. Every deli menu in Hollywood boasts some kind of transubstantiation between of stars into grub. In the world of cocktails, oddly, they're usually of the non-alcoholic variety (thinking, "Shirley Temple" or "Roy Rogers"). On the Isle of Beer, however, it's becoming customary to borrow the name of the well known, if usually deceased, person for the sake of branding a brew.
Topping the list is Samuel Adams, the American statesman and founding father whose fourth down the list on his own Google search. Number one, of course, is Boston-based craft-brewing behemoth Samuel Adams. They're also numbers 2 and 3, though I think competing for SEO with a dead guy is no real triumph.
A more obscure contender, though, IMHO, better brew is Pliny the Elder, a super hoppy double IPA that packs a whopping 8% alcohol, named for Gaius Plinius Secundus, which is Latin for "Unpronounceable After a Couple of Beers." Better known as Pliny the Elder, the philospher was a quite the gadfly about ancient Rome who penned a encyclopedia of natural history and is the uncle of, yep, Pliny the Younger. Why Santa Rosa, CA-based Russian River Brewing named their concoction after a dead Roman was probably lost with the brain cells spent during its first taste trials (I've learned that Pliny the Younger will roll out in early February).
Perhaps in an attempt to out-Russian the Russian River Brewing Company, Fort Bragg, CA's North Coast Brewing Company poached the name of Siberian-born "Mad Monk" Rasputin, ostensibly to honor the tradition of "18th century brewers who supplied the court of Russia's Catherine the Great." Hmm. Though the story is about as frothy of its Old Rasputin Imperial Stout's tan head, it certainly extends the cult of personality the creepy mystic has enjoyed since the days of the czars (which ended soon after he started mixing with them). The brew itself will extend your appreciation for imperial stouts, great beefy beers that top out at 9% alcohol and handily kick populist stouts (read: Guinness) to the floor.
Obviously, there are dozens of other beers, ales, porters and stouts named for personages notorious or otherwise, however, a pleasure greater than writing about beer is drinking it and presently, there's one with my name on it…
Ad blocker interference detected!
Wikia is a free-to-use site that makes money from advertising. We have a modified experience for viewers using ad blockers

Wikia is not accessible if you've made further modifications. Remove the custom ad blocker rule(s) and the page will load as expected.