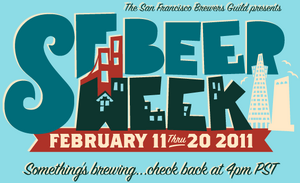 Are you ready to enjoy a week dedicated to BEER?! Get ready for a myriad of fun events and tasty lager, stout, and every type of sweet beer nectar you can think of at SF Beer Week!
The official calendar releases at 4PM today!

There are over 100 early entries in this years event including:
CalTrain Pub Crawl with Wet Your Whistles
An Oyster vs. Beer Smackdown at Gordon Biersch San Francisco
Vintage beer tastings at The Rose & Crown and The Jug Shop
Make-Your-Own-Chocolate and Beer Pairing Contest with Wicked/Cocoa Pete at FireHouse Grill & Brewery
A Hump Day Beer Breakfast at Social Kitchen & Brewery
Certified Beer Judging Classes at the Englander
Hop-less Beer Tastings at Monk's Kettle and Mill Valley Beerworks
A Week of Beer Ice Creams from Humphry Slocombe

San Francisco Beer Week is all about showcasing the amazing flavors, fun, and culture of beer! Come join the fun this February 11th thru the 20th!
Ad blocker interference detected!
Wikia is a free-to-use site that makes money from advertising. We have a modified experience for viewers using ad blockers

Wikia is not accessible if you've made further modifications. Remove the custom ad blocker rule(s) and the page will load as expected.