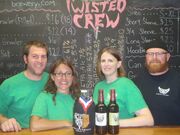 Twisted Crew Brewing Company offers eight beers on tap. Visitors to Twisted Crew Brewing Company at 755 W. Second Street, can sample beers on tap and buy a "growler," which is a half gallon glass container to take home with them. When the growler is empty, customers can return it for a clean one at a discounted price. Empty pint glasses, apparel and koozies are also sold at the brewery.
Visit their web site: www.twistedcrewbrewery.com ​ Current hours are Friday 4 p.m. to 8 p.m., Saturday 2 p.m. to 8 p.m. and Sunday, noon to 4 p.m. Search for the Twisted Crew on Facebook, stop by Second Street and try a sample or call 812-519-BEER for more information.
Ad blocker interference detected!
Wikia is a free-to-use site that makes money from advertising. We have a modified experience for viewers using ad blockers

Wikia is not accessible if you've made further modifications. Remove the custom ad blocker rule(s) and the page will load as expected.