Shmaltz Brewing Company is an American craft brewing company based in San Francisco, California that owns HE'BREW Beer and Coney Island Craft Lagers. Founded as "a celebration craft beer for Jews" by proprietor Jeremy Cowan, the company's beers now are distributed in over thirty-one U.S. states, Canada, and England. Shmaltz is known for blurring beer styles and using puns, art, history, and pop culture in every aspect of their products. As a contract brewer, Shmaltz has third-party brewers produce their beers using Shmaltz's proprietary recipes.
HE'BREW Beer
Edit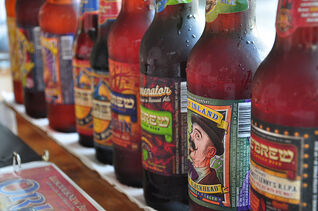 HE'BREW Beer began as a Chanukah experiment in 1996 when founder and proprietor Jeremy Cowan and friends squeezed pomegranates to produce juice for the first HE'BREW beer. Early distribution for this beer was done by Cowan himself out of the trunk of his grandmother's car in the San Francisco Bay Area. In 1997, Anderson Valley Brewing Company began brewing HE'BREW Beer and its distribution expanded to small craft beer wholesalers in California, Chicago and New York. 2003 marked the year Shmaltz began packaging Genesis Ale and Messiah Bold in six-packs and moved production to Mendocino Brewing Company's facility in Saratoga Springs, NY. Six beers currently make up the HE'BREW Beer line: Genesis Ale, Messiah Bold, Origin Pomegranate Strong Ale, Bittersweet Lenny's R.I.P.A., Rejewvenator, and Jewbelation. All HE'BREW Beers are certified Kosher by the Kosher Supervision of America.
MarketingEdit
HE'BREW Beer is widely recognized for its playful yet earnest study of Jewish, world, and pop cultural histories. Each label of HE'BREW Beer lists facts and quotations related to the beer's inspiration and its ingredients. For example, Origin, an imperial amber pomegranate ale, pays tribute to the original 1996 HE'BREW beer made with pomegranates, and its label contains facts, ancient mythology, and pop cultural references to pomegranates. Another component of HE'BREW's marketing is its "shtick," which incorporates Jewish religious references into the beers' names and slogans. Genesis Ale is aptly named because it was the first HE'BREW creation, and the tagline to Messiah Bold is "the beer you've been waiting for," which alludes to the Jewish belief that the promised savior of the world has yet to come.
In 2006 HE'BREW debuted Bittersweet Lenny's R.I.P.A., a rye double IPA dedicated to the late Jewish comedian Lenny Bruce. This beer is brewed with an "obscene" amount of malt and hops, including three kinds of rye malt and seven different hop varieties. Bittersweet Lenny's R.I.P.A. is the first in a series of "Tributes to Jewish Stars" and is available year-round. Following the release of Bittersweet Lenny's R.I.P.A., Shmaltz sponsored an "Homage to Lenny Bruce & Free Speech," a fundraising event that featured Sarah Silverman and Lewis Black.
Shmaltz offers the Rejewvenator and Jewbelation series as limited seasonal releases. Rejewvenator is a half-doppelbock, half-Belgian-style dubbel that takes inspiration from the German custom of brewing strong, dark lagers (bocks) for springtime release and adding the suffix "-ator" to the beer's name. Rejewvenator's spring-to-fall availability coincides with the barley harvest in the spring and the hop harvest in the fall, as well as with the spring and fall new years in Jewish tradition. The beer itself is a lager-ale hybrid, fermented by both a lager yeast and Trappist and abbey ale yeasts, and each year a different sacred species fruit is added to the fermenting wort. The 2008 Rejewvenator, for example, featured fig juice, while the 2009 Rejewvenator was made with California date juice and 2010 Rejewvenator, with Concord grapes.
Inaugurated as an eighth-anniversary ale called Jewbelation 8, Shmaltz commemorates their anniversary with each subsequent edition of Jewbelation by using the same number of malts, hops, and alcohol-by-volume value as the number of years they have been brewing. Numerology is integral to the Hebrew alphabet and Judaism, and in recognition of this aspect of its Jewish heritage, Shmaltz features religious, scientific, and cultural facts and quotations involving the special anniversary number on the Jewbelation label. This extreme beer is released in the fall, and Chanukah 2010 will mark the 14th anniversary of Shmaltz and the release of Jewbelation 14. In keeping with the Jewbelation tradition, this beer will contain 14 malts, 14 hops, and 14% ABV. In addition, this fall Shmaltz also rebrewed the recipes for Jewbelations 8-13 and aged a blend of all seven recipes in Sazerac 6-year Rye Whiskey barrels. These eight versions of Jewbelation were released in a Chanukah Vertical Jewbelation gift set and 88 beer bars across the United States poured the beers on draft as part of the Chosen 88 draft project in December 2010.
In connection with each Chanukah season, Shmaltz hosts an annual beer challenge "Chanukah vs. Christmas: The Battle Royale of Beers" in national markets including NYC, San Francisco, Seattle, Portland, Washington DC, Philadelphia, Atlanta, Baltimore and others.
Coney Island Craft Lagers
Edit
Summer 2007 marked the official launch of Shmaltz's Coney Island Craft Lagers line. This brand was released in partnership with the arts organization Coney Island USA, a 501(c)3 Non-Profit, and a portion of the proceeds from Coney Island Lagers directly benefits Coney Island USA. The line includes the flagship amber lager, Coney Island Lager, and five experimental lager styles: Sword Swallower, Albino Python, Mermaid Pilsner, Human Blockhead, and Freaktoberfest (September-October). In 2010 the brand was awarded "Best Craft Brewer" and "Best in Show" at industry publication Beverage World Magazine's BevStar Awards for product quality, brand marketing, and overall creativity in "pushing the limits of lager."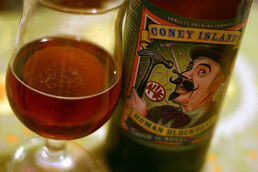 MarketingEdit
The striking artwork for Coney Island Lagers is the creation of Shmaltz's art director Matt Polacheck and Brooklyn-based tattoo artist Dave C. Wallin, whose original illustrations spotlight Heather Holliday (Sword Swallower) and the MC of the sideshow, Donny Vomit (Human Blockhead). The logo for the brand and for Coney Island Lager is based on the iconic "Tillie" face that graced the entrace of George Tilyou's Steeplechase Park in Coney Island. Coney Island Craft Lagers' signature "Beer Freak" logo also inspired Roger Mallette, founder of the cycling jersey company Retro Image Apparel, to create Micro Beer Jerseys, a spin-off venture that features jerseys with craft brewery artwork. The October 2008 release of Freaktoberfest, a seasonal blood-red lager, inspired the inaugural Freaktoberfest Boutique Craft Beer and Music Festival in Coney Island, and the festival has become an annual event in Brooklyn, NY featuring craft beer, sideshow performances, live music, and burlesque.
Coney Island Brewing CompanyEdit
In May 2010 Shmaltz launched Coney Island Brewing Company around the corner from the Coney Island Museum and Sideshow. Billed as the "World's Smallest Non-commercial, Non-production Brewery," this 175-square foot nano-brewery produces one gallon of beer per batch. Shmaltz welcomed several guest brewers to Coney Island Brewing Company during its inaugural season to brew experimental recipes inspired by Coney Island, including a Funnel Cake Ale and a Cotton Candy Wit.
Craft Beer Bar Mitzvah
Edit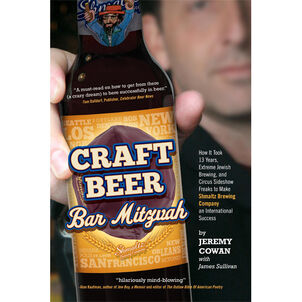 In September 2010 owner Jeremy Cowan published a small business memoir, "Craft Beer Bar Mitzvah," that chronicles Cowan's upbringing in the Northern California suburbs and describes how HE'BREW Beer evolved from an inside joke with high school friends to a nationally distributed craft beer brand under Shmaltz Brewing Company. The book was launched at Great American Beer Festival in Denver, Colorado, and a second edition was released in December 2010. "Craft Beer Bar Mitzvah" was written with help from friend and journalist James Sullivan and is published by Malt Shop Publishing.