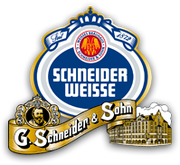 Schneider Weisse (sometimes Weizen or Weiß) is the generic expression for a number of different weissebiers produced by the G. Schneider & Sohn brewery of Kelheim, Bavaria. The brewery is still owned and operated by the Schneider family; Georg VI. Schneider is the current president.
There are nine different styles brewed by Schneider year-round:
TAP1 Meine blonde Weisse
TAP2 Mein Kristall
TAP3 Mein Alkoholfreies (non-alcoholic)
TAP4 Mein Grünes (organic)
TAP5 Meine Hopfenweisse
TAP6 Unser Aventinus
TAP7 Unser Original
TAP11 Unsere leichte Weisse
Aventinus Eisbock
TAPX Mein Nelson Sauvin
Schneider has also collaborated with the Brooklyn Brewery to release the Brooklyner-Schneider Hopfen-Weisse. This is essentially the same beer as the TAP5, but hopped differently to appeal to the American drinking palette.
Availability
Edit
Schneider beers are available throughout Germany and the EU. Their website also lists other countries where you can find their beer. All Schneider varieties come in 0.5l bottles, and are best enjoyed poured carefully into a clean, rinsed weiß glass.
Brewhouses
Edit
There are three brewhouses where you can enjoy fresh Schneider weisse beers along with delicious food and a great atmosphere.
Bräuhaus München, Tal - The site of the original Schneider brewery opened in 1872.
Bräuhaus München, Laim - Newer location, with a full restaurant, beer garden and group catering facilites.
Bräuhaus Kelteim - Located right by the brewery, it's the freshest Schneider you can drink! Large beer garden, plus rooms where you can stay the night.
Offical site (German & English)