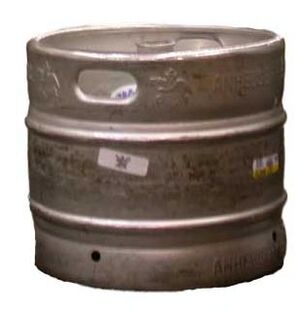 A pony keg , or quarter keg, is a beer vessel containing 7.75 U.S. gallons (29.33 liters) of fluid. It is half the size of the standard beer keg and equivalent to a quarter of a barrel. It will serve roughly 82 twelve ounce cups. The shape of a pony keg resembles that of a full-sized keg, while being much easier to move manually. However, it shares many inconveniences with the bigger kegs, such as: often requiring a deposit when purchased; needing a tap to serve the contents; and posing difficulties in determining the amount of beer remaining (weighing the keg or observing its buoyancy are common techniques). Despite this, a pony keg can be a cheap way to provide beer for a medium-sized party.
See also
Edit
Ad blocker interference detected!
Wikia is a free-to-use site that makes money from advertising. We have a modified experience for viewers using ad blockers

Wikia is not accessible if you've made further modifications. Remove the custom ad blocker rule(s) and the page will load as expected.