Oslo Mikrobryggeri is a brewery and pub in Oslo, Norway.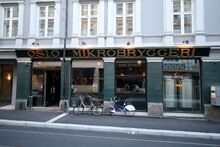 The brewery was founded in 1989, and was the first Norwegian microbrewery as well as the first newly established brewery in Norway in the 20th century. It was the first pub brewery in the Nordic countries.
The brewery uses fresh aroma hops, and the beer is stored for 2-3 weeks which is shorter than normal industrial breweries. They brew beer such as lager (Oslo pils), steamer, bitter, porter, IPA, stout and amber.
Ad blocker interference detected!
Wikia is a free-to-use site that makes money from advertising. We have a modified experience for viewers using ad blockers

Wikia is not accessible if you've made further modifications. Remove the custom ad blocker rule(s) and the page will load as expected.