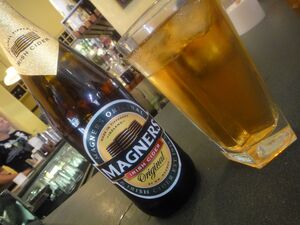 Magners is a brand of cider produced in Ireland by the C&C Group, also sold as Bulmers. The Magners product range includes the cider varieties: Magners Original, Magners Light, Magners Pear and Magners Berry. The cider was originally produced as Bulmers and continues to be sold under that name in Ireland.
Ad blocker interference detected!
Wikia is a free-to-use site that makes money from advertising. We have a modified experience for viewers using ad blockers

Wikia is not accessible if you've made further modifications. Remove the custom ad blocker rule(s) and the page will load as expected.