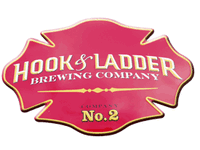 Hook & Ladder Brewing Company is a craft brewery based in Silver Spring, Maryland.
They donate a portion of their sales to a local burn foundation where the beer is sold.
The beer is contract brewed in Wilkes-Barre, PA.
Hook & Ladder Ember Amber

Hook & Ladder Pipe & Drum Irish Ale
Availability
Edit
Can be found in the U.S. in the Northeast, the Mid-Atlantic, and Illinois.
Packaging
Edit
http://www.hookandladderbeer.com
8757 Georgia AveS
ilver Spring, MD 20910

Founded in March, 1999 by Rich Fleischer, a firefighter in Bethesda, Maryland. The company donates $2 per brewery barrel and $0.125 per case to a local burn foundation, and requires their distributors to do the same.