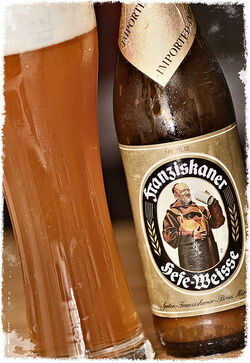 Originating in southern Germany, hefeweizen is an unfiltered, cloudy weissbier (wheat beer), typically with the mash consisting of 50% wheat or more. It is brewed with yeast that produces unique phenolic flavors of banana and cloves with an often dry, tart edge and some spiciness. Hefeweizen typically has low bitterness and a moderate level of alcohol, usually between 4% and 6% ABV with some rare examples of 7% or higher.
Ad blocker interference detected!
Wikia is a free-to-use site that makes money from advertising. We have a modified experience for viewers using ad blockers

Wikia is not accessible if you've made further modifications. Remove the custom ad blocker rule(s) and the page will load as expected.