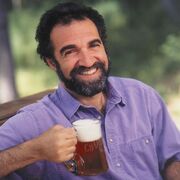 Charles N. "Charlie" Papazian is a former nuclear engineer who founded the Association of Brewers and wrote The Complete Joy of Homebrewing.
Brewing associations
Edit
In 1979 Papazian founded the Association of Brewers and remained President of that organization until 2005, when the Association of Brewers merged with the 63-year-old Brewers Association of America, and Papazian was named President of the combined organization. Papazian also founded the American Homebrewers Association in 1978, and remains President of that organization as of August 2005. Other organizations and annual events subsequently founded by Papazian include the Institute for Brewing Studies, Brewers Publications, the Great American Beer Festival, the World Beer Cup, and Zymurgy magazine.
Complete Joy of Homebrewing
Edit
In 1984, Papazian wrote his first book on the subject of homebrewing, titled The Complete Joy of Homebrewing. As of August 2005, The Complete Joy of Homebrewing has seen 25 reprintings, 3 editions, and has sold over 900,000 copies. As the first (and, for over a decade, the only) mass-market book to provide in-depth information on subject of how to brew beer in the home, The Complete Joy of Homebrewing was very often the sole source of homebrewing information for novice homebrewers. Consequently, the book has gained iconic status among the homebrewing community, and is frequently referred to as the "homebrewer's bible." Papazian has since written five more books.
It is also the source of one of the most well-known sayings in homebrewing: Relax. Don't worry. Have a homebrew.
Joy of Brewing, Copyright 1976, Log Boom Brewing, Boulder Colorado
The Complete Joy of Homebrewing (3rd Edition), ISBN 0-06-053105-3
The Homebrewer's Companion, ISBN 0-06-058473-4
Brewing Mead: Wassail! In Mazers of Mead (co-authored with Robert Gayre), ISBN 0-937381-00-4
Home Brewer's Gold: Prize-Winning Recipes from the 1996 World Beer Cup Competition (compiled by Charlie Papazian, currently out-of-print), ISBN 0-380-79192-7
Zymurgy For The Homebrewer And Beer Lover: Best Articles and Advice From America's #1 Homebrewing Magazine (edited by Charlie Papazian, currently out-of-print), ISBN 0-380-79399-7
Microbrewed Adventures: A Lupulin Filled Journey to the Heart and Flavor of the World's Greatest Craft Beers, ISBN 0-06-075814-7
Ad blocker interference detected!
Wikia is a free-to-use site that makes money from advertising. We have a modified experience for viewers using ad blockers

Wikia is not accessible if you've made further modifications. Remove the custom ad blocker rule(s) and the page will load as expected.