A San Francisco brewery producing small batches of experimental beers. The brewery prides itself on creating a variety of different beers consistently, versus making the same portfolio of beers all the time.
As of May 2016, they have beer on tap at about 25 Bay Area accounts.
Cellarmaker Brewing Co has a focus on keeping distribution local, which allows the brewers to abandon the common concept of a set production schedule (and flagship beers) and provides them the opportunity to constantly experiment with different hops, grains, barrels, and yeasts.
In the San Francisco-based tasting room, patrons will find beers available in 5oz tasters, half pints, pints, as well as 1 Liter and 64oz growlers to go. They sell glass growlers of the 1L and 64oz size with our logo for $8, as well as stainless steel growlers with our logo (1L for $20 and 2L for $25). Cellarmaker Brewing Co. also fills 750ml, 32oz, 1L, 64oz and 2L growlers that have zero logos showing or have the logos properly covered. Here is their growler policy: http://www.cellarmakerbrewing.com/growlers/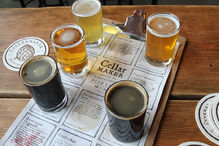 Ad blocker interference detected!
Wikia is a free-to-use site that makes money from advertising. We have a modified experience for viewers using ad blockers

Wikia is not accessible if you've made further modifications. Remove the custom ad blocker rule(s) and the page will load as expected.