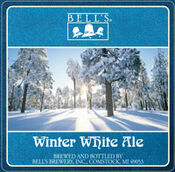 Winter White Ale is a wheat ale brewed by Bell's Brewery. It is brewed with American Wheat and a proprietary blend of Hefe and classic Belgian-style yeasts. It is only available during winter.
Wheat ales just aren't my favorite, but this is an interesting combination of styles here.
Much subtler than what I would expect from a white ale, and from what I remember, not as interesting as some of Bell's other brews. But it's drinkable and has nothing unpleasant going on, and ya gotta love label art that transports you to a peaceful happy winter woodland. --User:Betty Pipetti
See also
Edit
Ad blocker interference detected!
Wikia is a free-to-use site that makes money from advertising. We have a modified experience for viewers using ad blockers

Wikia is not accessible if you've made further modifications. Remove the custom ad blocker rule(s) and the page will load as expected.