Alfa Brewery (Alfa Brouwerij, actually called Meens Brewery)
is a family-owned independent
brewery
located in Thull a small village of the community of Schinnen, in the southeast of the
Netherlands
. Alfa was started in 1870 by Joseph Meens and is one of the few independent breweries left in the Province of Limburg.
Outside The Netherlands
Until 1960 Alfa beers were only available in the local area, but since then the brewery has expanded, and their beers are now available throughout the Netherlands. Since 1993 Alfa also expanded their distribution to Germany, the United Kingdom, the United States, Greece, and Italy.
A price winning beer
Alfa has won a variety of national and international recognition. They were granted a Royal Warrant by Royal Decree from HM Queen Beatrix in 1995. Their beers have also won gold medals in the 31st and 33rd Monde Selections in Brussels and received an award in the 1999 UK Beer and Cider Competition
Unofficially it's the most popular beer in the area called Limburg, the southeast of the Netherlands, this because it's unique taste (Alfa has a strong malt taste unlike Brand Beer which tastes like hop and Heineken which tastes like dishwater, sorry dishwater has a taste) has a very bourgondian style and because it's one of the only beer producers which hasn't been bought by the big beer companies. Also it's one of the cheapest beers if it's been brought from the tap, this doesn't says it's a cheap beer because bottled Alfa is more expensive then regular beers.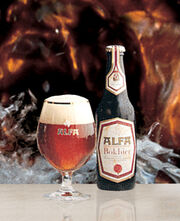 Products
The most drinked Alfa beer is Alfa Edel Pils which is the regular beer. This beer has an alcohol percentage of 5%. But besides this there are many other beers however some beers are only sold in specific seasons. One of these exampels is Alfa's very own Bock Beer called Alfa Bokbier which is only sold in autumn. It has commonly the same taste as regular Bock Beer'sexcept it has Alfa's malt taste. There is also a spring Bock Beer on the market which is brewed in the Alfa Brewery called Alfa Lente Bok.
For the people who like strong beers Alfa has a beer called Alfa Super Strong 9.2 with a percentage of alcohol of 9,2%. Alfa also produces Oud Bruin and Alfa Super Dortmunder.